Ixtapan Fitness- Spa Yoga Resort is one of the most affordable fitness spas in the world.  Our Wellness Weeks offer Discounted Group Rates. We stay in the new fabulous hotel. ENJOY A VIDEO HERE.
$1000 share and $1270 single. Week 2: $715 and $905 and week 3: $360 and $455. + tips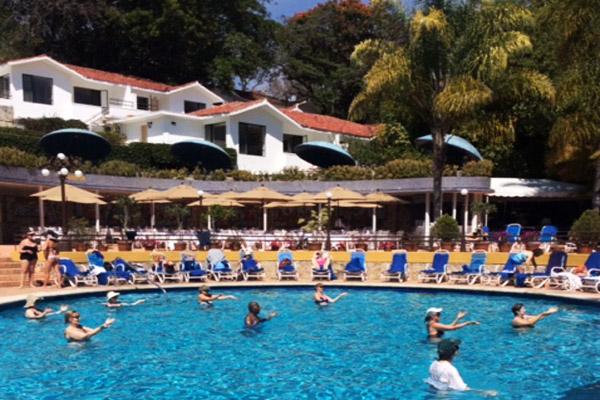 Info: Click here or Call us 646 309 5607
Our groups are at a discount to Ixtapan Fitness, Spa, Yoga in lovely mountainous colonial Ixtapan de la Sal Mexico. 7 nights accommodation-private bathrooms in hotel rooms or luxury condos overlooking  private golf course, all meals with choices, all bottled water, early AM juice, fruit and coffee. Spa treatments: 6 massages, reflexology, loofah, fango (warm mud), 1 hair treatment, mani, pedi, hair styling. Fitness classes, walks and hikes, pilates, pool aerobics and salsa, warm mineral water stretch, many gym classes, stretch, yoga, zumba etc. 10% tips, 17% taxes. Mexican party with music and dancing most weeks,  Shared discounted transfers from Mexico City Airport.  TO BOOK CLICK HERE
The resort has strict Covid prevention protocols in place. Public areas are open air; all services are done in 1/8 of the normal occupancy.
Here are some recent videos of the new luxurious main building and the new all suite rooms.
Doctor offers acupuncture, botox, juviderm fillers etc. Optional trips: Taxco (silver), Cuernavaca (gardens) caves and mountain scenery.
Details  and 2021-2022  terms and conditions are here   Please read all pages.
—————————–
Cooking in Tuscany
Wait list

Tuscany Cooking and Seeing with Christmas Markets in Siena and Florence. This year we include Siena and Lari with the last medieval pasta factory in Italy. We visit Lucca, San Gimignano, Siena, Florence, Lari and enjoy chocolate tastings/wine visits/ and to other artisanal food sites. 
HERE IS A VIDEO OF THIS COOKING IN TUSCANY TRIP MADE BY ONE OF OUR WONDERFUL MEMBERS, DEDE   Facebook has many other photos.
HERE IS ANOTHER VIDEO- SEE US COOKING AND SINGING.
Stay in a luxury private farmhouse amidst the vineyards. We cook most mornings, visit Florence, San Gimignano, Lucca, Siena and Pisa, with wine, cheese and olive oil tastings. This is hands on cooking so we supply the aprons. Our guide and chef are for our group exclusively. The house is large allowing for distancing if needed.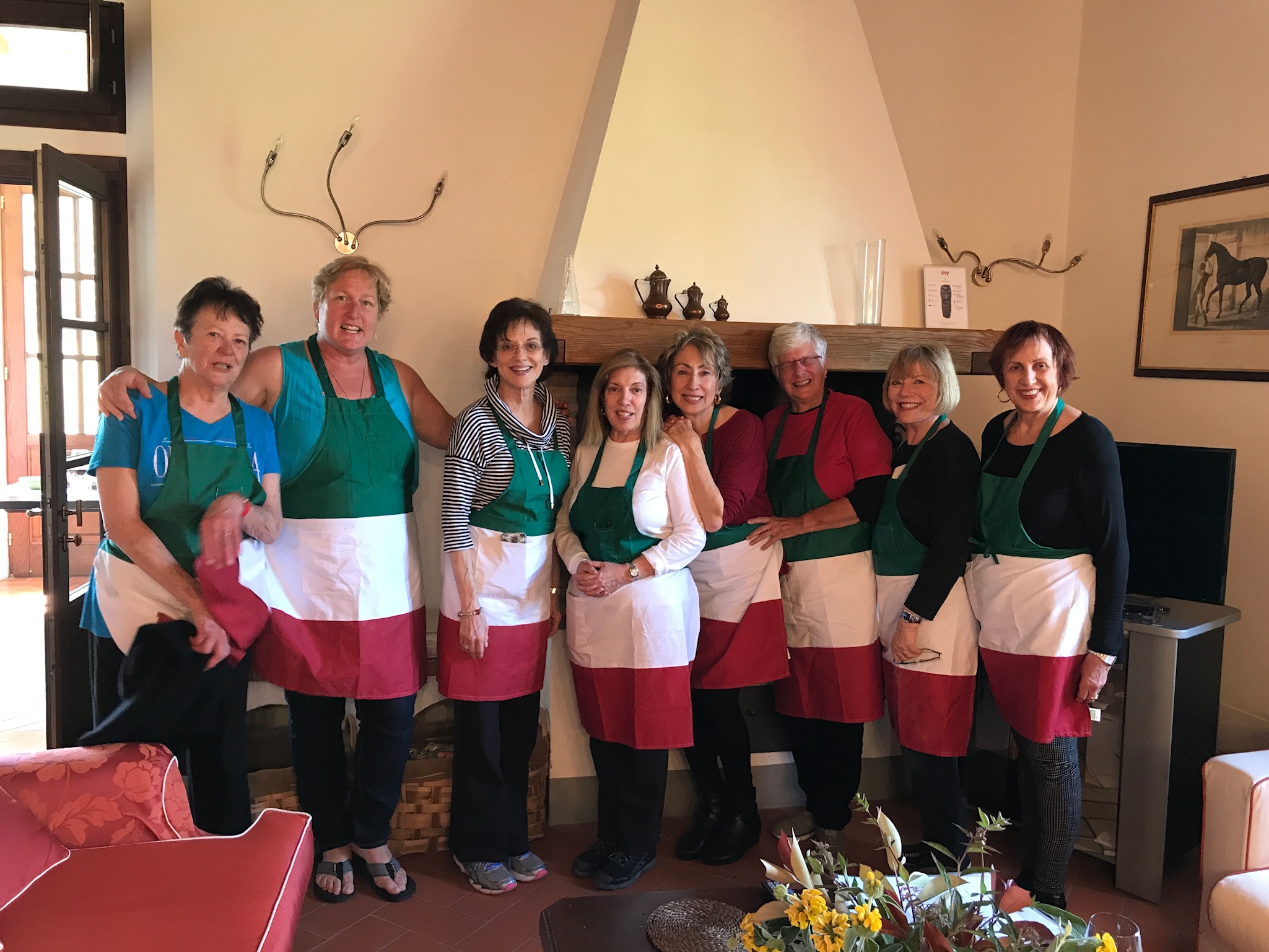 ---
All trips except for Ixtapan Spa have a non refundable policy a minimum of 90 days before departure. Ask about flexible terms and conditions when you book during the Pandemic