Why are we the only women's travel group with cultural and spa tours to Mexico? A simple answer is most Norte Americanas see Mexico as a cruise and beach destination. Most Americans ignore the ancient history, amazing archaeological sites, Indian festivals,  modern art and gourmet food found so close.
Mexico City  was named one of the Top Destinations Globally last year by a long list of newspapers and travel magazines.
Why go now with The Women's Travel Group?
The peso is halved from 10-19 for a dollar, yikes…..
Mexico City is ancient and startlingly modern. Architecture shocks you like the Carlos Slim silver facaded museum below. Reminders of ancient civilizations stare out from excavated temples and plaza and fountains.
You will walk through through colorful Native lives with exotic customs in world famous museums.
You experience ancient sacrifice and prayer at enormous carved pyramids, a day trip away.
Characters like Frida Kahlo and Diego Rivera come alive on gigantic murals and in charming neighborhoods.
Food filled with smoked and or hot chilis, chocolate, rich cream, avocado and corn will change your taste buds forever.
Exciting markets entice us with inexpensive ceramics, textiles, pewter, leather, or elegant designer silver jewelry by the Castillo family?
Churches with flower and fruit filled festivals speak to us from early Spanish missionaries.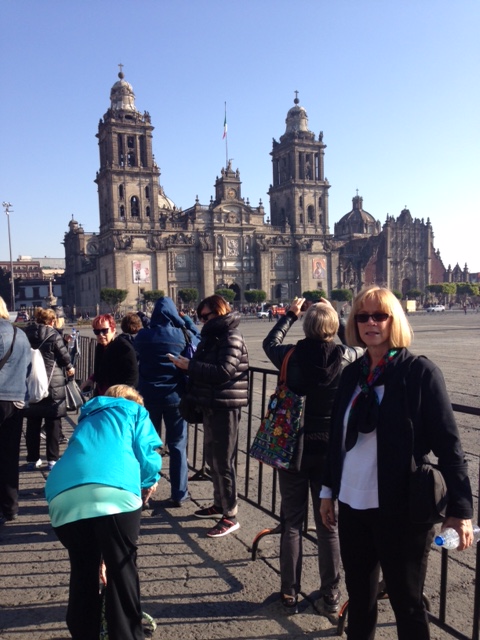 But you must see Mexico the right way, with insightful guides and routes staying in good hotels and with our small group travel. We currently have space on
Puebla/Cuernavaca and Chilulu Feb 2-5 
Ixtapan Budget Wellness Week Spa Feb 5-12 and 12-19
Yucatan trip is full and closed.
Call us at 646 309 5607 or email Phyllis@thewomenstravelgroup.com
Happy Holidays