1614cf4a592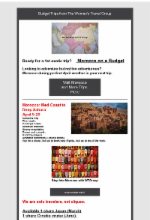 2  Here is our last eblast which went to members of our group.
Budget Trips from The Women's Travel Group
Ready for a 1st exotic trip? Morocco on a Budget
Looking to adventure but not too adventurous? Morocco during perfect April weather is your next trip.
Here
Inclusive trip
Fine meals.
Boutique hotels.
Medieval markets.
Snowy mountains.
Dunes and camels.
Roof top prayers.
Aromatic hammans (Turkish baths)
Ask for a share. Ask us to book your flights. Ask us to do all the work.
Morocco: Med Coast to
Deep Sahara.
April 9-20
Step into Morocco with WTGroup
www.thewomenstravelgroup.com Phyllisnycity@gmail.com 646 309 5607
We are solo travelers, not cliques.
Available 1 share Japan (March) 1 share Croatia cruise (June).
Summer in Ireland and Norway filling quickly.
More Budget Tours Here